Residential Roofing Spray Foam in Topeka, Manhattan, Salina, Emporia
Applying
Polyurethane

Spray Foam Insulation to Your Roof In KS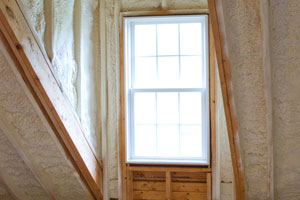 2-part Spray Polyurethane Foam (SPF) has impressive versatility because it can be applied quickly and it accomplishes air-sealing and insulating to high R-values in a single step.
Spray Polyurethane Foam, or SPF for short, is a star performer among home insulation materials. In its simplest form, SPF comes in disposable pressurized cans that are sold at hardware stores and home centers. This "single-component," or 1-part spray foam, is used primarily as an all-purpose sealer; it does an excellent job of filling holes and sealing gaps to stop air and moisture leaks.
2-part Spray Foam provides superior R-Value
2-part SPF is applied by insulation contractors such as Dr. Energy Saver. This high-performance insulation gets its name from the two liquid compounds that are mixed together right at the application nozzle.
The resulting chemical reaction creates an expanding foam with the ability to stop air and moisture movement and provide exceptional insulating value (nearly twice the R-value per inch as fiberglass insulation).
Spray Foam Roof Insulation
As an attic insulation upgrade, 2-part SPF can be sprayed between rafters to completely air-seal and insulate the roof. This energy-saving upgrade brings your attic space inside the building envelope, enabling you to use the attic for additional storage or even additional living space.
Spray foam roof insulation can be applied in an existing house and during new house construction. Either way, it's a "once-and-done" improvement that will provide energy savings, improved comfort and usable attic space for as long as you own your house. Dr. Energy Saver can complete this attic insulation upgrade in a single day, in most cases.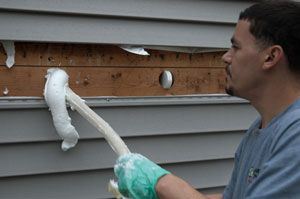 Injection foam is formulated to upgrade insulation levels in enclosed cavities like wood-framed walls. With the consistency of shaving cream, it flows and fills, even around existing insulation. Drafts because of air leaks are eliminated, and energy efficiency improves significantly.
Use Injection foam for existing walls in Salina, Emporia, Topeka, Manhattan, and across KS
One place that 2-part SPF can't be used is in enclosed cavities like the stud bays of existing walls. SPF's expanding action is strong enough to force wallboard and siding away from the studs that hold these materials in place. But there is a special type of spray foam formulated specifically for use in enclosed cavities: Injection Foam. Injection Foam doesn't expand like SPF, but it still flows into empty spaces and fills gaps and cracks. In wall cavities that have no insulation or fiberglass insulation that's underperforming because of air leaks and gaps, injection foam can truly transform a home's comfort and energy performance.
Contact us today to schedule your Get a Quote! We service in and around Topeka, Manhattan, Salina, Emporia, Junction City, Mcpherson, Fort Riley, Abilene, Clay Center, Holton, Concordia, Wamego and more!